OUTREACH MINISTRIES
Christ Church Cafe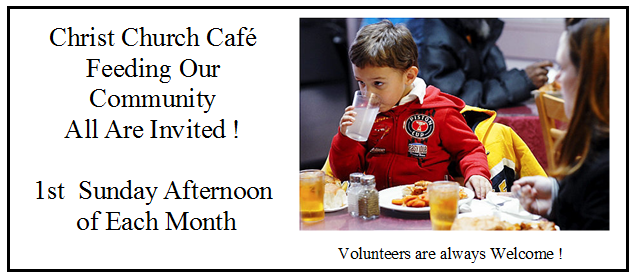 Our café serves a free community meal on the first Sunday of each month at 3:00pm. Currently meals are only available "to-go".
No meal available on Sept. 3, 2023.
Food Pantry
Christ Church has a small Food Pantry which is supported by its parishioners and some outside organizations.
Volunteers are needed to shop for food for the pantry, run other errands, and to staff the Pantry during open hours. Donations are sought for grocery items and personal products.
The Food Pantry is open on Tuesdays from 9:30am to 12pm.
IFS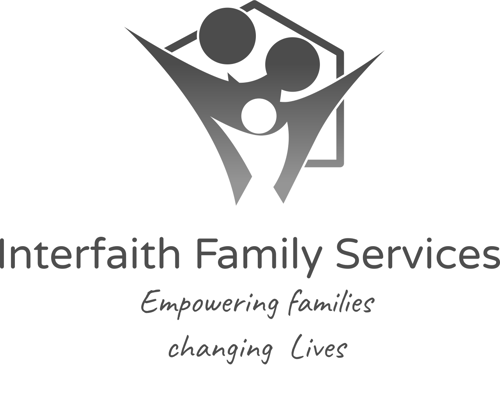 Christ Church is a host congregation for Interfaith Family Services of Ocean County (IFS), formerly known as Interfaith Hospitality Network. IFS is a non-profit, interfaith ministry committed to providing shelter, meals and assistance to homeless families. We are responsible for providing overnight lodging and meals for 3-5 families for 1 week each 2-3 months on a rotating schedule. Volunteers are needed to shop for supplies, cook meals, serve as evening hosts and overnight hosts and set up and clean up before and after the week.
IFS families also receive financial, career, individual and family counseling through professional volunteers as they seek permanent employment and affordable housing. Volunteers are the heart and soul of the program as they offer a compassionate, caring and secure environment where the families are treated with respect and are offered hope.
WCC Women of Christ Church
The Women of Christ Church (WCC) chair and coordinate our Annual Cookie Walk and the semi-annual Rummage Sale. Profits from these activities support many on-going parish ministries. WCC also organizes the United Thank Offering and provides receptions for parish celebrations.

Church Christ parishioners and members belong to Caregiver Volunteers of Central Jersey. This ministry helps homebound seniors to remain in their homes in Ocean County, and now the Monmouth communities of Freehold, Howell, and Farmingdale. Among other things, we provide medical transportation, grocery shopping for them, give respite care relief, provide socialization in the form of friendly visits and caring phone calls and canine therapy visits. There is never a charge for help provided.
Ocean County Crop Walk
Each year many members of our parish donate to and/or join the Ocean County Crop Walk. A Crop Walk is neighbors walking together to take a stand against hunger in our world. The purpose is to raise awareness and funds for international relief and development, as well as local hunger-fighting.

The Pipes & Drums of Barnegat Bay
The Pipes & Drums of Barnegat Bay is sponsored by Christ Church. We are one of only three Episcopal Churches in the US that sponsors a bagpipe band. They play at various events and at occasional church services. Anyone with a desire to learn is welcome; training is free.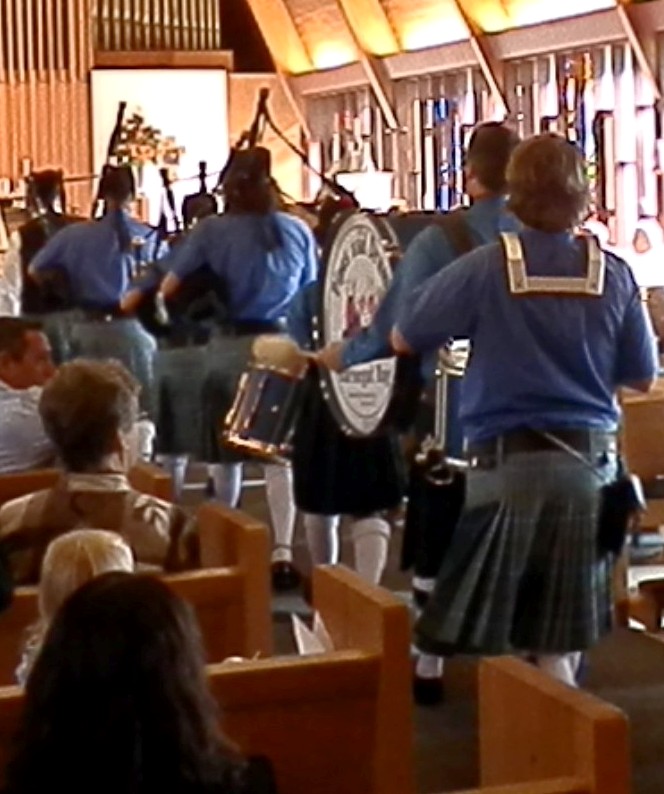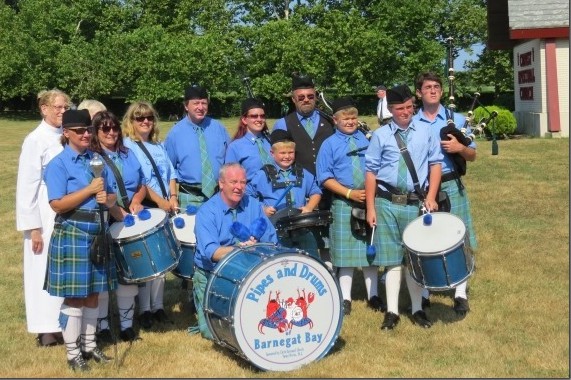 Community Garden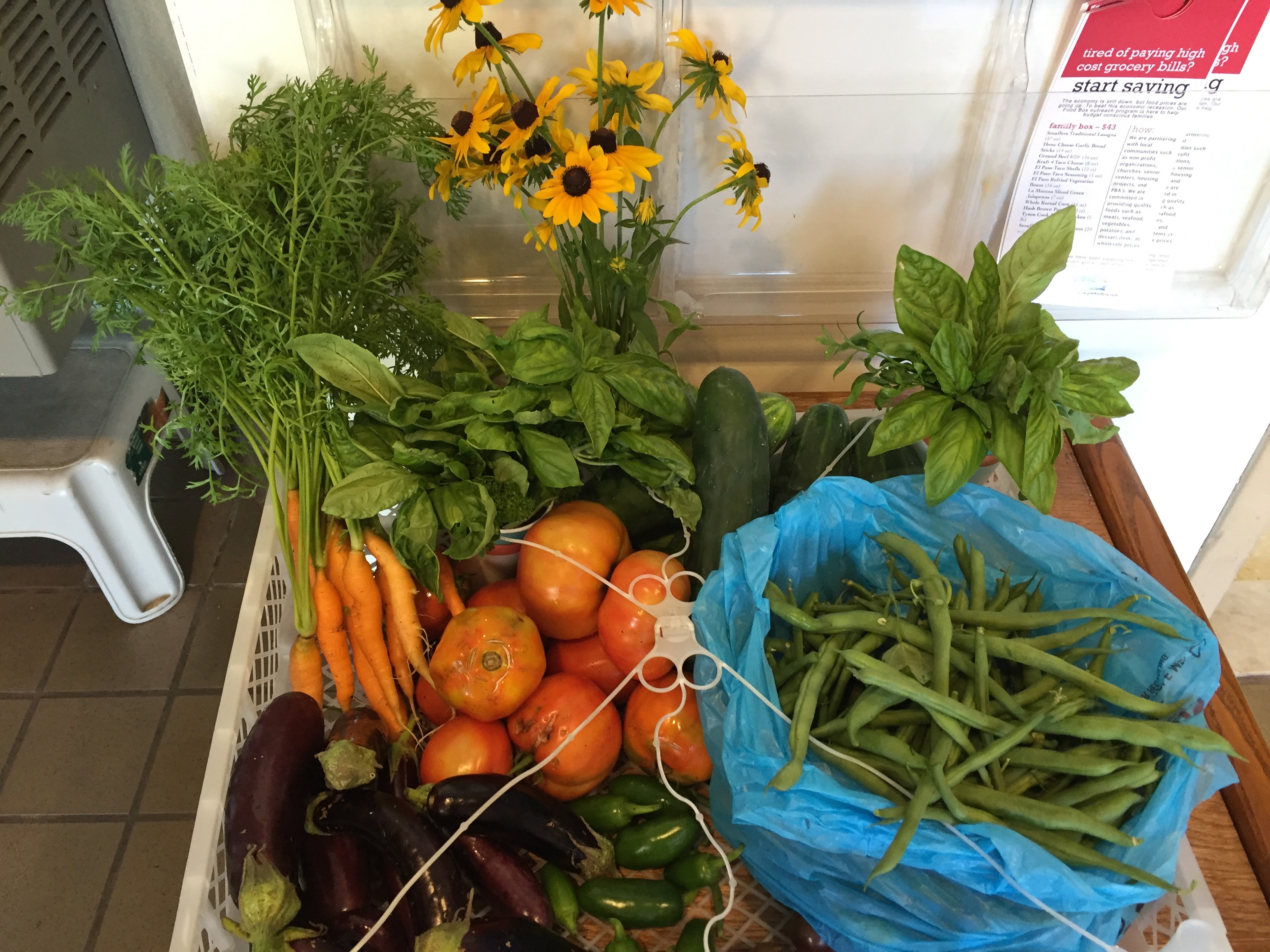 The Christ Church Community Garden was established in 2011 in conjunction with Ocean County Youth Partnership. The garden was planted and maintained by mentally challenged young people and their advisors. In 2013, this ministry was taken over by Christ Church members. The harvest is used by our Cafe, Emergency or donated to local food banks.
Homelessness Ended With Local Partners (HELP)
Christ Church parishioners serve on this non-profit Board and organization to solve the issues of homelessness in Ocean County.
12-Step Groups
Over 15 weekly anonymous support groups choose to meet at Christ Church. There is at least one meeting per day.