The Reverend Lisa A. Hoffman, Rector

The Reverend Ted Foley, Deacon
I was ordained Deacon in the Diocese of New Jersey on May 5, 2012 and began serving at Christ Church about one month later.  I've had prior experience in a number of different ministries. One of my main interests has been in adult formation which has lead to ministries such as preaching the Good News, facilitating book discussions, Bible studies, and retreat experiences. I have also been active in various outreach ministries to the poor including leading Community of Hope Ministries, a church related non-profit. Finally, I continue to be active in justice ministries to gays and lesbians, particularly in the Oasis Ministry of the Diocese of NJ.
After spending 37 years in Research and Development in the Medical Device industry, I retired in 2010. I am married to Kathy Megroz-Foley, a licensed clinical social worker.  We have two adult daughters. During the good weather you can usually find me on my bicycle, being frustrated on the golf course, or spending time at the ocean. I look forward to continuing my faith journey here at Christ Church - particularly with the many good people that I've met since I've arrived.
The Reverend José Cantos, Deacon
I have been with my wife for 21 years and have three children: Laura, Cristina and Alberto.  In 1991, I was received as a member of the Anglican communion, carrying out pastoral work in Trelew, Argentine Patagonia, and in the city of Buenos Aires.
in 2003, we moved to Barcelona, Spain to work and raise funds to finish building our current home. On Holy Friday of that year we were already participating in our first religious service in the Church of Christ, a Spanish Episcopal Church and part of the Anglican communion, in Sabadell, a city about 30 minutes from the center of Barcelona. José was in charge of this congregation since in Salamanca, a lay minister can be in charge of congregations. José was also director of an ecumenical center of the IERE (Spanish Reformed Episcopal Church-Anglican Communion) in Barcelona. In addition to the voluntary and paid work by the church, we work together as caretakers of a rural farm, janitors of a building, cleaners of homes and churches, caregivers of elderly people, driver, maintenance and small arrangements in homes, jobs in cafeterias, in a center of migrants of African origin, etc. In Spain we obtained the Spanish nationality and the European passport and with that we visited the United States several times, of course also Ecuador(!), where our house is almost finished.
In 2014, animated by the proposal to exercise an ordained ministry in the Episcopal Church, we returned to Ecuador in a definitive way. José was in charge of two missions in Manta; San Esteban Church and San José Obrero Church.  He took over the latter completely once he was ordained deacon in transition in 2016 until his departure for the United States. Working in formation, counseling and pastoral care, the church had an important growth, and programs were created to help the poorest people affected by the earthquake that caused almost 700 victims.
The Reverend Lew McCrum, Deacon (Retired)
I accepted my calling to the diaconate from Christ Church and was ordained in 1990. I retired in 2008. I had been involved in particular in the coordination and training of chalice bearers and lay eucharistic ministers. I also shared in the visitation of the sick, shut-ins and hospitalized parishioners. Since retirement I still participate in services when needed.
Nicole Strada
Parish Administrator
Polly Moore
Music Director
John Cilento
Sexton
Kathy Schott
Financial Assistant
Andrew Van Buskirk
Organist
What Your Vestry Does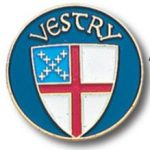 The vestry of the Episcopal Church is responsible for overseeing parish finances, the buildings, and being leaders of the vestry commissions: evangelism, education, pastoral care, communications, stewardship, outreach, justice, worship, buildings and grounds, and fellowship.
     The vestry meets (except during Lent) on the 3rd Wednesday of each month from 6:00PM until often 9:00PM until all issues on the agenda are covered. These meetings are open to the parish to attend.